dir Gurinder Chadha
scr Paul Mayeda Berges, Gurinder Chadha, Moira Buffini
prd Paul Mayeda Berges, Gurinder Chadha, Deepak Nayar
with Hugh Bonneville, Gillian Anderson, Manish Dayal, Huma Qureshi, Michael Gambon, Simon Callow, Lily Travers, Om Puri, Neeraj Kabi, Tanveer Ghani, Denzil Smith, Samrat Chakrabarti
release UK 3.Mar.17
17/India 1h46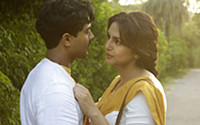 Forbidden love: Dayal and Qureshi



R E V I E W B Y R I C H C L I N E

Drawing on her own family history, filmmaker Gurinder Chadha takes on the thorny, complex events surrounding the independence and partition of India in 1947. It's a big story, whittled down into a surprisingly engaging movie that clips along through history with wit and some insight. So even if the film avoids the darkness of real life events, its more personal touches make it resonate.

In 1947 Delhi, Lord Mountbatten (Bonneville) arrives as Britain's last viceroy, accompanied by his fiercely involved wife Edwina (Anderson) and daughter Pamela (Travers). In their palatial new home, they take an interest in their new country, trying to work out how to grant independence without triggering bloodshed between Hindu, Muslim and Sikh communities already caught in a violent spiral. Meanwhile, Hindu house guard Jeet (Dayal) is trying to convince the Muslim maid Aalia (Qureshi) that they could have a future together, against the odds.

This romantic subplot is somewhat heavy-handed, but adds interest to the entire film, with a storyline that grabs the audience emotionally. Dayal and Qureshi are likeable leads, and their relationship has some genuine wrinkles along the way. Meanwhile, Bonneville and Anderson bring some light relief to the intensity of the political situation, showing real compassion and understanding amid a sea of diplomats who are seeking the best deal regardless of the casualties.

Performances are all relaxed and earthy, adding some grit even if scenes never dig too deeply into the harsh corners of what happened in India during these months. The reality is that 14 million people were displaced and more than 1 million died in the fighting, a horrific culmination to the UK's three centuries of rule. And the clashing ideas of local leaders Jinnah and Nehru (Smith and Ghani) didn't help either, flying in the face of a more unifying peace proposed by Gandhi (Kabi).

Chadha tells the story on a big scale, with some enormous set pieces and lots of colourful touches. Some of the culture clashes are broad, but it's in the more subtle scenes that the film comes to life. So if AR Rahman's score seems oddly generic, in a Hollywood sort of way, at least there are some Bollywood moments to balance things out. And if the film neglects a more complex telling of history, at least Chadha lets events unfurl in an engaging way that will make the audience want to know more.
| | | |
| --- | --- | --- |
| | themes, some violence | 17.Jan.17 |