dir Joel Hopkins
scr Robert Festinger
prd Robert Bernstein, Douglas Rae
with Diane Keaton, Brendan Gleeson, Lesley Manville, James Norton, Jason Watkins, Hugh Skinner, Phil Davis, Adeel Akhtar, Peter Singh, Alistair Petrie, Rosalind Ayres, Simon Callow
release UK 23.Jun.17
17/UK 1h43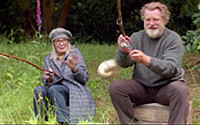 Catching lunch, literally: Keaton and Gleeson



R E V I E W B Y R I C H C L I N E

As in his 2008 romantic comedy Last Chance Harvey, director Joel Hopkins mixes a veteran American star into a low-key British yarn. Unlike that gem, this film is thin and insistently cute, with a frightfully jaunty Stephen Warbeck score and relentlessly sunny production design. And since Hampstead village looks like a storybook fantasyland, the plot seems to be utter nonsense. Non-cynics will probably love it.

In the posh Northwest London enclave, Emily (Keaton) is an American widow struggling with the debts her husband left her, relying on her son Philip (Norton) for advice. Her neighbour Fiona (Manville) sets her up with accountant James (Watkins), for help and perhaps romance. But Emily is more interested in Donald (Gleeson), a homeless Irishman who lives a self-sufficient life in a makeshift shack across the road on the grounds of a former hospital. The bigger problem is that Fiona's husband is trying to develop his patch of land into a glassy block of flats.

Where this goes involves a spot of activism, romance and legal wrangling. None of this is very convincing, since it barely scrapes the surface of the characters or setting. And even the story's darker edges have a squeaky clean feel to them that undermines any sense of authenticity. At least it looks beautiful, conveying a stylised version of life in the inner-London suburb that focusses on flowers billowing out of window boxes and picturesque, colour-matching antiques supposedly collected over a long, happy life.

Keaton and Gleeson are watchable despite the simplistic script. Frankly, Keaton could play simplistic role like this standing on her head: kooky, helpless and intelligent at the same time. Always likeable, she brings a terrific sense of timing to her interaction with a range of people around her. Gleeson offers a little more interest as the tetchy Donald, although his apparent complexities never lead to anything telling. Everyone else is solidly one-note, adding exactly the right hues to each scene.

It's a shame that the film never bothers to make even a cursory comment on the bigger issues it raises (despite being loosely based on real events). Modernisation and gentrification are ideas that are salient across Britain, and urgent in protected areas like Hampstead. So to glibly use them as fodder for a rom-com seems like a waste, especially when the premise had scope to touch on these things with a lot more resonance than this escapist bit of fluff.
| | | |
| --- | --- | --- |
| | themes, language, innuendo | 6.Mar..17 |