dir David Lowery
prd James Whitaker
scr David Lowery, Toby Halbrooks
with Bryce Dallas Howard, Oakes Fegley, Wes Bentley, Karl Urban, Robert Redford, Oona Laurence, Isiah Whitlock Jr, Aaron Jackson, Phil Grieve, Marcus Henderson, Esmee Myers, Gareth Reeves
release US/UK 12.Aug.16
16/NZ Disney 1h42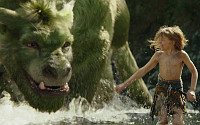 Best friends: Elliot and Fegley



R E V I E W B Y R I C H C L I N E

A loose remake of the somewhat cheesy 1977 Disney adventure, this film stands on its own as an involving, engaging romp with strong characters and far above-average effects. The movie's primary asset is a furry green dragon who behaves like a gigantic puppy dog and can't help but win over the audience. In fact, its lovability creates a problem with the plot, as it's difficult to understand why anyone would want to harm him.

Six years after becoming lost in the deep forest, the now 12-year-old Pete (Fegley) is living happily with his dragon companion Elliot. But sawmill owner Jack (Bentley) and his aggressive brother Gavin (Urban) are venturing into their territory. And when Jack's fiancee, park official Grace (Howard), visits the work site, she runs into Pete. Back in town, no one believes his stories about a dragon, just like they didn't believe Grace's father (Redford) decades before. But Jack's plucky daughter Natalie (Laurence) takes Pete's side as things out in the forest begin to heat up.

The movie opens with a relentlessly earnest prologue that emphasises surging wonder while the gritty realities of a double fatality in a car crash remain eerily off-screen. And most of the film has a rather over-serious tone, but there's also a strong current of honest subtext running through every scene. Relationships are vivid and understated, allowing the strong cast to bring out unexpected details even in some otherwise rather thankless roles (such as the grizzled old coot or the guy who's cruel for no real reason).

Fegley has a terrific feral quality as Pete. He's also hugely engaging, taking the audience with him on this sometimes crazy journey while making us fall in love with the shamelessly cuddly Elliot. Best of all, the dragon has a strong personality of his own, which boils over in a unexpectedly harrowing climactic confrontation. Laurence adds a terrific counterpoint as Natalie, a girl Pete's age who is fascinated to see the world through his wild eyes.

Meanwhile, the adult cast makes the most of their characters, offering gently sympathetic turns for Howard, Bentley and a nicely understated Redford, and a somewhat over-egged role for the solid Urban as the hotheaded antagonist, simply because the script demands one. But filmmaker Lowery keeps the focus on the relationship between the boy and his dragon, and the effects are so seamless that it's easy not only to believe, but to wish that we had a dragon buddy too.
| | | |
| --- | --- | --- |
| | themes, violence | 17.Jul.16 |