dir Travis Knight
scr Marc Haimes, Chris Butler
prd Travis Knight, Arianne Sutner
voices Art Parkinson, Charlize Theron, Matthew McConaughey, Rooney Mara, Ralph Fiennes, George Takei, Cary-Hiroyuki Tagawa, Brenda Vaccaro, Meyrick Murphy, Minae Noji, Alpha Takahashi, Laura Miro
release US 19.Aug.16, UK 9.Sep.16
16/US Laika 1h41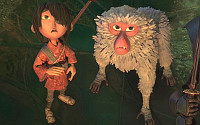 An impossible quest: Kubo and Monkey



R E V I E W B Y R I C H C L I N E

Not only is this perhaps one of the most exquisitely animated films ever made, but it also has a story that runs very, very deep. Resonant themes swirl around in every scene, making the comedy funnier, the drama more moving and the suspense genuinely scary. And what it has to say about finding your place in the world is truly powerful.

In mythical Japan, Kubo (Parkinson) entertains villagers by magically illustrating his epic stories with origami as he plays along on his three-string shamisen, always returning to his cave before nightfall. But when his twin aunts (Mara) find him, he is propelled on a quest to find the armour his father was seeking when he died. His companions are a sardonic monkey (Theron) and a warrior (McConaughey) who's been transformed into a giant beetle and lost his memory. Kubo's nemesis is his grandfather the Moon King (Fiennes), who took his eye and wants the other too.

The story is a beautiful tapestry of family relationships that spin and roll around within the twisty narrative. Issues of legacy and purpose surround Kubo as he tries to understand the things his parents could never tell him. But he also wants to make sense of his magical abilities, curious to see where they lead him, hoping that accomplishing his father's quest will bring some answers. Kubo is an astoundingly complex character, and Parkinson voices him with a terrific mix of underlying intelligence and naivete.

By contrast, Theron and McConaughey are hilariously sarcastic in their roles, dropping witty throwaway lines into every scene while driving the more serious aspects of the story forward. Both Monkey and Beetle are on their own personal quests, beautifully voiced and cleverly animated. Mara's work as the sisters is terrifying, while Fiennes finds all sorts of textures in this blind, presumptive ruler of the night.

With each film, Laika outdoes itself technically, and this film is visual perfection. Designs are sumptuous and simple at the same time, blending colours and textures with light and shadow. And the combination of stop-motion and digital animation is seamless. It's utterly dazzling, paced with a sense of purpose and momentum that avoids the usual frantic gimmicks. These characters have proper weight to them, not only visually but also in their inner lives and buoyant personalities. In other words, this isn't just one of the best animated kids' films of the year; grown-ups should see it too.
| | | |
| --- | --- | --- |
| | themes, violence | 22.Aug.16 |