dir Klay Hall
scr Jeffrey M Howard
prd Traci Balthazor
voices Dane Cook, Teri Hatcher, Brad Garrett, Stacy Keach, John Cleese, Carlos Alazraqui, Roger Craig Smith, Julia Louis-Dreyfus, Priyanka Chopra, Cedric the Entertainer, Val Kilmer, Anthony Edwards
release 9.Aug.13, UK 16.Aug.13
13/US Disney 1h32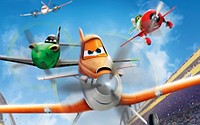 Wings Around the Globe: Dusty leads the field



---
See also:



R E V I E W B Y R I C H C L I N E

It's not as if Pixar's Cars was screaming for a spin-off (or even a sequel), but here we are. And with a "World of Cars" badge at the outset, we can only expect Boats and Trains are on their way. Tellingly, this disposable film doesn't bear the Pixar name: it's a simplistic adventure that's only mildly thrilling. But as a diversion, it's cute enough.

Dusty (Cook) is a joy-riding cropduster who dreams of racing against world champ Ripslinger (Smith) in the Wings Around the Globe competition. With the help of his pit crew, forklift Dottie (Hatcher) and fuel-truck Chug (Garrett), he convinces war veteran Skipper (Keach) to train him. And he makes it to the final, where his competitors include Britain's Bulldog (Cleese), Mexico's Chupacabra (Alazraqui), French-Canadian Rochelle (Louis-Dreyfus) and India's Ishani (Chopra). But it's Ripslinger himself who proves the biggest challenge, continually trying to sabotage Dusty as they circle the planet.

Frankly, the movie looks like a straight-to-DVD sequel, with simplistic characters in an childish story. There's little snappy dialog and few offbeat personalities for grown-ups, although the flight sequences are animated with a whizzy point-of-view approach that makes them exhilarating (especially in 3D). Otherwise, we're left with smiley heroes, a sneering villain and a plot that never surprises anyone.

The voice cast can't do much with characters like this, and there is't a stand-out here, although Alazraqui's Chupacabra gets the most amusing lines as he pursues a romance with Louis-Dreyfus' slinky Rochelle. But it's odd that the script gives so little humour to comedy masters like Louis-Dreyfus, Cleese, Garrett and Cedric. Even Cook is toned down as the perky-bland hero. And frankly, both romantic subplots are a little creepy. Try not to think about it.

But then the World of Cars has always been disturbing and inexplicable. Kids probably won't mind that these humanised vehicles exist without the need for humans. And at least the story spans the world, offering nicely animated scenes in Europe, India, Nepal, China and Mexico. Planes aren't exactly cuddly, although the film specialises in silly forklifts (including a German barmaid in lederhosen) and tuktuks (Himalayan monks). But mainly the plasticky animation seems like a marketing tool for a line of toys. And no one's better at this than Disney.
| | | |
| --- | --- | --- |
| | themes, violence | 14.Jul.13 |