dir Dennis Dugan
prd Jack Giarraputo, Adam Sandler
scr Fred Wolf, Adam Sandler, Tim Herlihy
with Adam Sandler, Kevin James, Chris Rock, David Spade, Salma Hayek, Maya Rudolph, Maria Bello, Alexander Ludwig, Steve Buscemi, Nick Swardson, Tim Meadows, Shaquille O'Neal
release US 12.Jul.13, UK 9.Aug.13
13/US Sony 1h41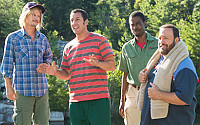 Minor misunderstanding: Spade, Sandler, Rock and James



---
See also:


R E V I E W B Y R I C H C L I N E

It's hard to imagine how this comedy could be even lazier than the first movie, but here we are. With no real plot, it merely strings together random cheap gags and corny vulgarity. It's so fragmented that it feels exactly like one of those awful spoof movies.

Lenny (Sandler) and his three pals Eric, Kurt and Marcus (James, Rock and Spade) have moved back to their hometown, and are planning to have a big party like in the old days, complete with a 1980s theme. Their kids have various things going on, from first dates to driving tests. Although in Marcus' case, his child is a teenaged thug (Ludwig) he only just discovered he had. Meanwhile, the guys spark a war with a gang of airhead fratboys (led by Taylor Lautner, Milo Ventmiglia and Patrick Schwarzenegger).

At the start, four lamely written scenes re-introduce us to the characters, their families and director Dugan's over-reliance on cheesy digital effects. There's no mention of Rob Schneider's character from the first film, as if he never existed. But then, no one really bothers to act at all: Sandler is basically just playing with his friends. Hayek, Bello and Rudolph are back as Lenny's, Eric's and Kurt's wives, respectively, and their roles couldn't be much more thankless.

The movie's themes are all over the place, belittling any real issue that's brought up. There's no sense of friendship, loyalty, romance or camaraderie. These are just actors son cruise control. Then big-name cameo performers like Jon Lovitz or Steve Austin turn up to make rude, unfunny jokes. And it's not much better for bit-part players like Buscemi, Swardson, Meadows and O'Neal.

Frankly, this isn't much more than a relentless stream of sexism and homophobia. And a vivid depiction of seriously terrible parenting. It's little more than excretory jokes and misogynistic men leering at sexy women, and there isn't a single real laugh in the entire movie. Essentially it's like being trapped in a locker-room full of dim-witted 12-year-old boys for 100 painfully long minutes. And the problem is that the cast and crew would probably take that as a compliment.
| | | |
| --- | --- | --- |
| | themes, vulgarity, language, violence | 28.Jul.13 |