dir-scr Jon S Baird
prd Christian Angermayer, Jon S Baird, Will Clarke, Stephen Mao, Ken Marshall, James McAvoy, Jens Meurer, Celine Rattray, Trudie Styler
with James McAvoy, Jamie Bell, Eddie Marsan, Imogen Poots, John Sessions, Gary Lewis, Emun Elliott, Jim Broadbent, Shirley Henderson, Kate Dickie, Joanne Froggatt, Shauna Macdonald, Martin Compston, Iain De Caestecker, Brian McCardie, Ron Donachie
release UK 4.Oct.13
13/UK 1h37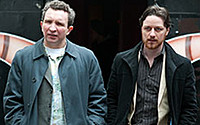 Sex tourists: Marsan and McAvoy



R E V I E W B Y R I C H C L I N E

Like Trainspotting, based on another notorious Irvine Welsh novel, this film is a blast of style and substance that never pulls its punches. Writer-director Baird not only keeps the film visually inventive and outrageously profane, but he deepens the story with an emotional resonance that repeatedly catches us off guard.

Bruce (McAvoy) is an Edinburgh detective sure he'll get a hotly contested promotion from his boss (Sessions). As long as he can keep his private life a secret. A rampant womaniser, sexist, racist and addict, Bruce focusses on undermining his colleagues while convincing them that he's their friend. He gets young Ray (Bell) hooked on cocaine, flirts mercilessly with Amanda (Poots), subtly taunts Peter (Elliott) about his sexuality, has an affair with Gus' (Lewis) kinky wife (Dickie), and takes Bladesey (Marsan) on a sex-tourism holiday while making obscene phone calls to his high-strung wife (Henderson).

All of this is the tip of the iceberg for a character so relentlessly amoral that each new revelation is blackly hilarious. McAvoy plays the character without hesitation, diving into each degrading scene while somehow managing to hold on to our sympathies. This is no mean feat, since Bruce is a two-faced monster. But we also glimpse into his soul now and then with echoes of childhood tragedy and torturous scenes with a therapist (Broadbent). Not to mention fantasies, hallucinations and nightmares.

The narrative is held together with a vicious murder case that means more to Bruce than he lets on. As he gets deeper into his quest for promotion, McAvoy taps into Bruce's fragile inner life with heart-wrenching emotion. The entire cast is excellent: most play far against type, finding the raw humanity in characters who could easily become cartoonish but never do. All of them manage to surprise us, revealing quiet details underneath the garish surface.

As both writer and director, Baird orchestrates this expertly with Matthew Jensen's lurid cinematography and Mark Eckersley's razor-sharp editing. The film bolts out of the starting block and never lets us off the hook, right to the harrowing finale. All we can do is hang on for the ride and breathe a sigh of relief at the end when we emerge relatively unscathed. But along the way we've been given a one of the most insightful looks at ambition and addiction ever put on film.
| | | |
| --- | --- | --- |
| | themes, language, violence, sexuality, drugs | 15.Feb.13 |