dir Stephan Lacant
scr Stephan Lacant, Karsten Dahlem
prd Christoph Holthof, Daniel Reich
with Hanno Koffler, Max Riemelt, Katharina Schuttler, Attila Borlan, Stephanie Schonfeld, Oliver Brocker, Luis Lamprecht, Maren Kroymann, Shenja Lacher, Britta Hammelstein, Horst Krebs, Barbara Bernt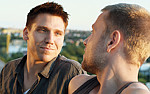 release Ger 13.May.13,
US Jun.13 fff, UK 27.Jan.14
13/Germany 1h40

---
BERLIN FILM FESTIVAL

This gritty German drama plays out like an urban, present-day Brokeback Mountain as a young cop struggles with his self-loathing. It's also sharply well-shot and played to bring out a strong emotional kick without indulging in pushy melodramatics.

Marc (Koffler) is struggling to keep up with his fitter police academy roommate Kay (Riemelt), so they begin running practice in their spare time. Marc and his heavily pregnant girlfriend Bettina (Schuttler) have just moved next door to his parents (Lamprecht and Kroymann), so he kind of needs some space. Then Kay tries to kiss him, bringing up desires Marc thought he had buried. And his inner turmoil gets worse after graduation when he's assigned to work with Kay and begins to fall for him. Then Bettina notices something isn't right.

Director-cowriter Lacant keeps the tone grounded and realistic. Marc and Kay's first physical encounter is tough and surprising, revealing a lot about both characters. And there are other key, including the fact that police work runs in Marc's family, as does bigotry that makes Marc hate himself for his own desires. So there are scenes of real beauty and pain as Marc simply refuses to face up to who he is, and his evasiveness alienates the people he loves.

The film is structured as a series of tense scenes loaded with subtle subtext. All of the actors play their roles with quiet honesty, finding such gut-level emotional reactions that we can't help but engage with all of them. There certainly isn't a villain here. Koffler helps us sympathise with the way Marc has always tried to please his parents and be who whey want him to be. And his disturbing repression sits in striking contrast to Riemelt's vivid depiction of Kay's self-assurance.

With a new baby and an old-school family, Marc knows far too well what he will lose if he stops denying who he really is. There's a strong sense that this story is far more common than most would like to admit, and the full-on final act never takes the easy route through a scene. So while Brokeback Mountain let us place the attitudes quaintly in the past, this film forces us to face up to the homophobia that still lingers at every level of Western society.
15 themes, language, sexuality, violence
---
13.Jan.14

R E V I E W B Y R I C H C L I N E
Moon Man


dir Stephan Schesch, Sarah Clara Weber
scr-prd Stephan Schesch
voices Katharina Thalbach, Pat Laffan, Michael McElhatton, Paul McLoone, Taylor Mooney, Helen Mooney, Mark Lambert, Paul Tylak, Paul Young, Adam Malone, Katie Farmer, Alex Partridge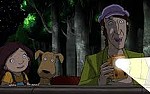 release Fr 19.Dec.12,
US May.12 sff, UK 27.Dec.13
12/France 1h35


The simple appearance of this French-German-Irish production belies a depth of meaning that few animated features achieve. It's a gorgeously produced little film that's likely to please adults rather a lot more than kids, who will still enjoy its storybook qualities.

Above the earth, the Moon Man (Thalbach) is bored. So he grabs the tail of a passing comet and comes to earth, prompting a military panic from the President (McElhatton), who has just secured rule over the entire planet and has his eye on the moon as his next conquest. He turns to inventor Bunsen (Laffan) to build a rocket. But Bunsen also meets Moon Man, and understands his desire to return home. And with him missing from the night sky, earth's children can't sleep.

Based on Tomi Ungerer's book Jean de la Lune, the film has a cool, jazzy tone that makes the most of the hand-drawn, cut-out style animation. Without that standard 3D digital sheen, the imagery looks unusually colourful and textured. And it's packed with witty touches (watch out for the moonwalk), references to classic movies and even a terrific use of Moon River. Unusually for a kids' movie, there's also an implied sex scene.

But then, this is a film about breaking free of our grown-up routines to rediscover the magic in the world around us. Our imaginations are sparked as we watch Moon Man embrace the world's small pleasures: flowers, animals and, most of all, humans in all their absurdity. Each of the characters has grown bored with life, from an inventor who feels like there's nothing left to discover to a politician who has conquered the last hold-out nation (Switzerland, of course) but has given up trying to control his voracious wife.

Yes, this is a startlingly sophisticated little movie, which feels light and effortless even as it gets under our skin. While children will enjoy its visual simplicity and likeable characters (even the villain is sympathetic), adults will catch the sly commentary on society's obsession with power and the importance of rediscovering our childish curiosity and kindness. And everyone will find resonance in the idea that finding a true friend is like finding your home.
U themes, violence, innuendo
---
18.Dec.13

R E V I E W B Y R I C H C L I N E
Oh Boy


dir-scr Jan Ole Gerster
prd Marcos Kantis, Martin Lehwald, Michal Pokorny
with Tom Schilling, Friederike Kempter, Marc Hosemann, Arnd Klawitter, Ulrich Noethen, Michael Gwisdek, Justus von Dohnanyi, Andreas Schroders, Lis Bottner, Steffen C Jurgens, Leander Modersohn, Katharina Schuttler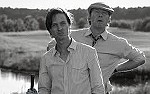 release Ger 1.Nov.12,
US Nov.13 sliff,
UK 17.Jan.14
12/Germany 1h23

---


With echoes of Woody Allen, German filmmaker Gerster takes us on a personal odyssey with a likeable loser who can't get his life on track and isn't trying very hard. And yet we strongly sympathise with him, which is high praise for Schilling's central performance and Gerster's sometimes too-clever script.

Niko (Schilling) is newly single and out of work. He hasn't quite moved into his flat in Berlin, and is trying to avoid an over-keen neighbour (von Dohnanyi). Hanging out with his actor pal Matze (Hosemann), Niko runs into Julika (Kempter), whom he used to bully when they were in school. But she's not fat now, and she invites him to her art performance that night. Before then, Niko visits a ruthless shrink (Schroders), tries to get money from his wealthy dad (Noethen) and visits another actor (Klawitter) on the set of a Nazi melodrama.

Shot in black and white with a jazzy underscore, this feels like a classic American film. But the narrative is purely German, playfully touching on history from WWII to the Soviet era. The people Niko meets on this fateful day seem to be obstructing his quest to do nothing with his life. And as he listens to each sob story, Niko ignores the fact that he created his own by dropping out of law school.

These encounters are darkly hilarious, often leaving us uneasy about laughing (there's even a gag about inappropriate laughter). Niko may be the ultimate slacker, stealing his father's university support payments for two years so he can "think", but Schilling makes him a genuinely nice guy, never asking for sympathy but earning it anyway. By contrast, we are as leery as he is of everyone else. Even when he opens up to Julika, we worry because of Kempter's subtly unhinged performance.

All of this feels heavily structured, with dialog that's relentlessly on-the-nose. And each character is so sharply played that they feel like pieces in a well-crafted puzzle. But in the end, the improvisational-style filmmaking wins us over, and we can't help but identify with Niko's feeling that maybe it's not the odd people around him who are the problem. Or perhaps all we need to make it through the day is some coffee.
15 themes, language, drugs
---
7.Jan.14

R E V I E W B Y R I C H C L I N E
Stalingrad


dir Fedor Bondarchuk
scr Sergey Snezhkin, Ilya Tilkin
prd Sergey Melkumov, Alexander Rodnyansky, Dmitriy Rudovskiy
with Pyotr Fyodorov, Thomas Kretschmann, Mariya Smolnikova, Yanina Studilina, Sergey Bondarchuk, Andrey Smolyakov, Dmitriy Lysenkov, Aleksey Barabash, Oleg Volku, Polina Raikina, Anna von Abler, Yuri Vladimirovich Nazarov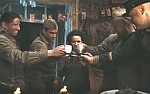 release Rus 10.Oct.13,
UK 21.Feb.14, US 28.Feb.14
13/Russia 2h11


Gigantic production values and whopping 3D effects make this enough of a cinematic event to be worth seeing. It's just a shame that the characters are so simplistic and uninvolving; only one has any sense of an internal life. And the film's scale is so big that any emotional engagement is crushed like this once-great city.

In 1942 the German army launched a scorched-earth attack on the key city Stalingrad, but struggled against pockets of resistance while the Russian military reinforced troops over the Volga River. After a particularly fiery attack, five Russian soldiers take refuge in a strategic building where they find the 18-year-old Katya (Smolnikova) in hiding. Each of the men falls for her, and under the leadership of Captain Gromov (Fyodorov) they hold off attacks from the increasingly desperate German Captain Kahn (Kretschmann), who has a Russian woman (Studilina) of his own for inspiration.

The story is framed, oddly, with elaborately recreated scenes from the Japanese tsunami as a rescue worker recounts the story of his "five fathers" and his mother Katya. His anachronistically omniscient narration gives us back-stories for all five men: handsome, steely Gromov, soulful Astakhov (Bondarchuk), sardonic Polyakov (Smokyakov), cheeky Chvanov (Lysenkov) and mute singer Nikiforov (Barabash). Although tales of their relentless heroics feel like puffed-up nationalistic propaganda.

The only character with any texture is Kretschmann's conflicted Nazi, a flawed man who struggles with his actions (of course he always does the most brutal, nasty thing). Each massive set-piece is staged to draw out story elements that feel apocryphal: Russian soldiers continuing to fight while they're on fire, Russian sharpshooters bouncing a mortar off a stranded tank, a birthday party with live opera and a steamy bath. These are the kinds of stories that feel like they've been passed down the generations even though they're probably not strictly true.

And the central plots involving these two sexy women also feel completely scripted. Fortunately, all of the actors are thoroughly watchable. And there are moments when the characters briefly begin to come to life before the next enormous visual-effects shot. This certainly isn't a thoughtful exploration of the deadliest battle in human history. It's a blockbuster movie made to get the masses cheering. And not much more than that.
15 themes, violence, language
---
23.Jan.14


< < F O R E I G N > >
See also: SHADOWS FILM FESTIVAL

© 2014 by Rich Cline, Shadows on the Wall


HOME | REVIEWS | NEWS | FESTIVAL | AWARDS | Q&A | ABOUT | TALKBACK