dir Paul Feig
scr Kristen Wiig, Annie Mumolo
prd Judd Apatow, Barry Mendel, Clayton Townsend
with Kristen Wiig, Maya Rudolph, Rose Byrne, Chris O'Dowd, Melissa McCarthy, Wendi McLendon-Covey, Ellie Kemper, Jon Hamm, Jill Clayburgh,Matt Lucas, Rebel Wilson, Ben Falcone
release US 13.May.11, UK 24.Jun.11
11/US Universal 2h05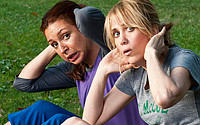 Wedding planners: Rudolph and Wiig



The Illusion of chaos
INTERVIEW:
Wiig, O'Dowd, Byrne,
McCarthy and Feig >>
R E V I E W B Y R I C H C L I N E

Kristen Wiig finally gets her chance to shine in a lead role with this hilarious comedy. The film veers a bit wildly between silly playfulness and extreme rudeness, but it keeps us hooked by maintaining believable characters.

Despite some heavy setbacks, Annie (Wiig) is happy in her life with a casual partner (Hamm) and a low-pressure job. Then her best pal Lillian (Rudolph) gets engaged, and even though Annie's the maid of honour, every wedding decision is a battle with seemingly perfect bridesmaids Helen (Byrne), while other attendants (McCarthy, McLendon-Covey and Kemper) have issues of their own. Meanwhile, Annie's encounters with a local Milwaukee cop (O'Dowd) are a confusing mixture of attraction and reticence. Then as Helen seizes control of Lillian's wedding, Annie's life seems to fall apart around her.

Every character in this film is a bundle of insecurity, sometimes very well hidden, and watching them all interact is hilariously entertaining. This is due to an unusually smart, lively script and razor-sharp performances. Even the story's annoying characters have some complexity to them, so as the rom-com structure unfurls, we go along with it simply because we are interested in these people and want to see where they end up.

Wiig is terrific at the centre, generating warm camaraderie with Rudolph and spiky rivalry with Byrne. And her chemistry with O'Dowd is enjoyably funny and cute. Meanwhile, scene-stealers like McCarthy, Clayburgh (as Annie's mum) and Lucas (as Annie's flatmate) bubble around the edges. There isn't a scene in the film that doesn't generate a solid laugh, often of the gut-wrenching variety. And while a few gross-out gags go over the top, they at least stay essentially good-natured.

Even so, the film is far too long for a comedy; at least a half hour could have been trimmed away. It's not that the material isn't entertaining (we're never bored at all), but some tightening would have made the overall plot that much stronger, even if that meant losing some of the rambling improvisational riffs. They may be hysterically funny, but they dilute the overall impact of the story and would be just as amusing as DVD extras. On the other hand, the mid-credits sequence is priceless.
| | | |
| --- | --- | --- |
| | themes, language, sexuality | 1.Jun.11 |