dir Tom Hooper
scr Peter Morgan
with Michael Sheen, Timothy Spall, Jim Broadbent, Colm Meaney, Maurice Roeves, Stephen Graham, Martin Compston, Peter McDonald, Brian McCardie, Joseph Dempsie, Giles Alderson, John Savage
release UK 27.Mar.09
09/US Columbia-BBC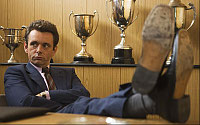 The buck stops here: Sheen



---
Other Sheen-Morgan
collaborations:



R E V I E W B Y R I C H C L I N E

A colourful script, gorgeously cinematic direction and blistering central performance by Sheen make this one of the most entertaining biopics in recent memory. And it's definitely not just for football fans.

Brian Clough (Sheen) is a bright spark in Derby, working with his sidekick Peter Taylor (Spall) to bring the County team into the first division. When his nemesis, Leeds United manager Don Revie (Meaney), is poached to manage England in 1974, Brian heads to Leeds. Peter, on the other hand, honours an agreement to move to Brighton, leaving Brian to struggle alone through 44 turbulent days in which his brilliance is tested to the breaking point by championship players who still act like his rivals.

Director Hooper keeps the energy high, making the most of Eve Stewart's stylish production design and Ben Smithard's inventive cinematography. Even more importantly, he and writer Morgan keep the focus on the friendship between Clough and Taylor, where it belongs, never getting bogged down in distracting on-field subplots and leaving the sporting action largely off-screen. This makes the film far more engaging, and it also allows Sheen to take centre stage with a feisty, riveting performance as the cocky, abrasive, intriguingly self-doubting Cough.

The script, which is packed with hilariously spicy dialog, also has a terrific flashback structure that fills in the history as the present-day events progress. Each scene adds beautifully to the Clough-Taylor relationship, building to a climactic moment in Brighton ("We're almost in France!") that would have felt rom-com formulaic if it weren't so perfectly played. Along the way, the film cleverly balances its cheeky attitude with an underlying drama that gets rather dark and creepy at times.

This is a story about men who let their success go to their heads, believing their own hype and then discovering that they can't actually do anything by themselves. As the Leeds players turn en masse against Clough, the film becomes raw and heartbreaking, with shocking confrontations and grim betrayals. But in the end, what emerges is a lovely examination of an extraordinary partnership. And when you've got Sheen and Spall at the peak of their game, you don't want to miss it.
| | | |
| --- | --- | --- |
| | themes, language, violence | 26.Feb.09 |