dir-scr Andrew Stanton
voices Ben Burtt, Elissa Knight, Fred Willard, Sigourney Weaver, John Ratzenberger, Kathy Najimy, Jeff Garlin, Kim Kopf, Garrett Palmer, Paul Eiding,
release US 27.Jun.08, UK 18.Jul.08
08/US Disney-Pixar 1h30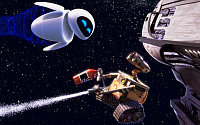 Space ballet: Eve and Wall-E



---

R E V I E W B Y R I C H C L I N E
Pixar departs from formula (for the most part) to create another beautifully animated gem of a movie. And this endearing post-apocalyptic romantic adventure never puts a foot wrong.

In a desolated, rubbish-strewn city, the tiny robot WALL-E is the only thing moving, quietly following his programming to collect debris and crush it into cubes. The other models burnt out long ago, so WALL-E is extremely lonely, but a spark of imagination keeps him going, along with his cockroach pal and an old videotape of Hello Dolly. Then a sleek probe droid arrives. Her name is EVE and she also has a spark of personality. But just as they're beginning to bond, she discovers a small living plant and her programme kicks in.

This opening act is played out beautifully without any dialog at all. The robots are animated with attention to the tiniest detail, expressing complex thoughts, emotions and interaction. Then the plot shifts into gear and the tender, comical drama turns into a full-on sci-fi romp, as WALL-E follows EVE back to her mother ship, populated by the flabby descendants of the humans who left earth in such a state to begin with. The adventure that plays out is magically well-orchestrated, with moments of raw emotion and high tension.

As expected, the animation is simply spectacular, adopting a photo-realistic style that seamlessly mixes the steel robots, cartoonish humans and live action clips. And even though most never actually talk, each robot comes with a detailed personality, which makes the manic final sequences feel a bit like Toy Story as a group of mismatched animate objects race against the clock against all odds. Although the thing that sticks in the mind is the wrenchingly beautiful personal drama.

Writer-director Stanton (Finding Nemo) invests so much heart into this story that we can't help but fall completely in love with it. And the script and animation are sharp and witty, dotted with references to genre classics like 2001: A Space Odyssey, plus playful gags about technology and corporate culture (the monolithic company here is called Buy-N-Large). But what makes this film even more engaging is the way it cleverly comments on our culture of waste and laziness. Why is it that Pixar seems to be the only studio out there willing to invest in something this bold and captivating?
| | | |
| --- | --- | --- |
| | some themes and suspense | 17.Jun.08 |