dir Gus Van Sant
scr Dustin Lance Black
with Sean Penn, James Franco, Josh Brolin, Emile Hirsch, Diego Luna, Alison Pill, Victor Garber, Joseph Cross, Brandon Boyce, Lucas Grabeel, Howard Rosenman, Denis O'Hare
release US 26.Nov.08, UK 16.Jan.09
08/US Focus 2h08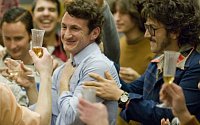 Life of the party: Penn and Luna



See also:
SHADOWS' INTERVIEW with GUS VAN SANT, JAMES FRANCO and DUSTIN LANCE BLACK
---
See also Rob Epstein's
THE TIMES OF HARVEY MILK (1984)
---
"Harvey Milk reminds us
that hope has to mean
action, not just words."
Frank Rich, New York Times
R E V I E W B Y R I C H C L I N E

After four films that experimented with narrative, Van Sant snaps in sharp focus for this emotional biopic about America's first openly gay elected official. Van Sant may be preaching to the choir, but this is relevant, powerful filmmaking.

On his 40th birthday in 1970 New York, Harvey (Penn) meets Scott (Franco), and two years later they head for San Francisco's emerging gay scene. After opening a shop together, Harvey begins to speak up for community rights, running for public office three times before he's elected as a city supervisor in 1977, at the peak of Anita Bryant's national anti-gay movement. Soon he has the city and mayor (Garber) behind him, but he loses the support of fellow supervisor Dan White (Brolin).

Black's observant script frames the story using an audiotape Milk recorded just in case he was assassinated. This electrifies the film in ways that are eerie and insightful, providing Milk's own commentary on his life and death ("If a bullet should enter my brain, let that bullet destroy every closet door"), although he never suspected who would fire the fateful shot.

Penn is simply astounding, disappearing into Milk's skin and creating thrilling chemistry with everyone on screen, from Franco and Luna (as his later lover Jack) to his staff (Hirsch, Pill, Cross, Boyce and Grabeel), rivals (Rosenman and O'Hare) and especially Brolin. And the exceptional cast is just as fully invested as Penn is.

Van Sant seamlessly combines real news footage with Harris Savides' light-infused cinematography, evoking attitudes of the period far beyond the moustaches and tight jeans. And Danny Elfman's elegant score adds to the film's organic tone. Yes, the film comes from a perspective that accepts the entire gay scene without questioning it, an approach that leaves no question of right or wrong.

But in Milk's eloquent, unapologetic words, most of which are verbatim, the issue is pretty clear. When Bryant and her camp declare that they're trying to get rid of homosexuals to protect the children, Milk's retort simply can't be countered: what about the gay children who need to know that God does not hate them, they are not sick and they deserve to live as much as anyone else? Regardless of the moral issue, those in Bryant's 1978 "Yes on Proposition 6" campaign (and anyone who voted yes on Proposition 8 in California 30 years later) are the ones who should be deeply ashamed for encouraging hatred and inequality. Yes, Milk still has something to teach us about compassion.
| | | |
| --- | --- | --- |
| | themes, language, violence, innuendo | 18.Nov.08 |