R E V I E W B Y R I C H C L I N E
dir David Mackenzie
scr Ed Whitmore, David Mackenzie
with Jamie Bell, Sophia Myles, Jamie Sives, Ciarán Hinds, Claire Forlani, Ewen Bremner, Maurice Roëves, Lucy Holt, Ruth Milne, John Paul Lawler, Kirsty Shepheard, Neil McKinven
release UK 31.Aug.07, US 5.Sep.08
07/UK FilmFour 1h35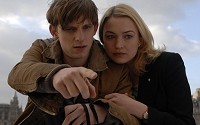 Peeping Toms: Bell and Myles



BERLIN FILM FEST
Opening film:


This remarkable Scottish drama underscores its charming story with such an unsettling tone that it often feels like a thriller. It also affirms the raw talents of both David Mackenzie (Young Adam) and Jamie Bell (who's come a long way since Billy Elliot).

In the Scottish highlands, Hallam Foe (Bell) is a troubled 17-year-old running wild on the family estate. He blames his mother's tragic death on his new stepmother (Forlani), previously a secretary to his dad (Hinds). But a nasty confrontation with her sends Hallam running to Edinburgh. He blags his way into a job in a hotel kitchen, so he can be near personnel officer Kate (Myles), who looks rather a lot like his mother. And as he watches her every move, he can hardly believe that she actually notices him too.

Hallam is such a disturbed young man that it's hard to sympathise with him. He's voyeuristic to the point of being a stalker, and we're really not sure what he might be capable of doing if pushed. He's fiercely savvy, quickly getting the best of the hotel manager (Sives) who corners him. But he's also deeply naive and vulnerable; we begin to understand the cause of his obsessions, and we start feeling his inner turmoil.

All of this hinges on Bell, who delivers a fascinatingly rounded character. Hallam is terrifying and funny, creepy and sweet, and this jarring complexity is thoroughly unlike most movie characters simply because it's so real. Bell shines in the role, and excels in scenes that are profoundly heartbreaking and joyful. Myles is also good as a finely shaded character who refuses to be what Hallam expects her to be. And maybe that's even better.

Mackenzie tells the story with lush photography, intelligent editing and a gorgeous song score, getting deep into Hallam's inner world and playing on the Hamlet parallels. He also keeps us off balance with hints that Hallam has psychotic tendencies, and that other characters are also capable of violence. In that sense, the film is a little too dark at times, piling on the irascible dialog and cat-and-mouse subplots. But it's also a gripping and beautifully subtle examination of human interaction.
| | | |
| --- | --- | --- |
| | themes, language, sexuality, violence | 14.May.07 |