R E V I E W B Y R I C H C L I N E
dir-scr Bill Condon
with Liam Neeson, Laura Linney, Peter Sarsgaard, John Lithgow, Chris O'Donnell, Timothy Hutton, Tim Curry, Oliver Platt, Dylan Baker, Lynn Redgrave, Mike Thurstlic, William Sadler
release US 12.Nov.04, UK 4.Mar.05
Fox
04/US 1h58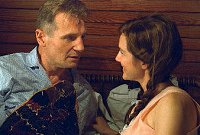 The fairer sex: Neeson and Linney




• TOP 10 FILM
• BEST SCREENPLAY
• BEST SUPPORTING ACTOR:
PETER SARSGAARD

Gods and Monsters writer-director Condon returns with another fascinatingly well-made biopic about another elusive subject, "sex doctor" Alfred Kinsey. Beautifully directed from a very clever script, this film courts controversy as it echoes Kinsey's own refusal to moralise.

Kinsey's (Neeson) early life is woven together in a series of flashbacks as he's interviewed by his colleagues (Sarsgaard, O'Donnell and Hutton). Raised by a strict religious father (Lithgow), Kinsey studied zoology at university and became a wasp expert before turning his attention to the human animal, an approach that's still fairly radical. His interest was in the most taboo of human subjects, sexuality, and in interviewing hundreds of people he made shocking discoveries that are still ignored. Mostly because we still don't like to talk about these things!

Where Hollywood movies would sanitise and simplify Kinsey's life and views to avoid offending anyone, Condon takes a bold and unapologetic approach. Nothing is judged here--Kinsey's liberal attitudes toward sex, which are echoed by his wife (Linney) and colleagues, are presented in a way that dares us to open our minds and understand a new point of view. Audiences with a black-and-white worldview will find this as impossible to accept as Kinsey's findings.

But more unbiased viewers will be rewarded by a strikingly introspective look at a man who simply couldn't understand why no one got what he was trying to say! The actors all get deep into their characters, people who refuse to be pigeonholed even as they're marginalized. As a result, the film makes a strong statement about human diversity without ever spelling it out for us. "Just open your eyes and see it."

Condon is also smart enough to fill the film with real-life wit and honesty, jolting us with moments that are hilarious, shocking and strongly emotional. Whether we agree with Kinsey or not, his work has changed the way we think about sex. And his approach has also given countless people hope in the fact that they're not alone. The gap between what we assume people do and what they really do is huge. And this important film reminds us that, even now, we prefer to live in ignorance.
| | | |
| --- | --- | --- |
| | strong themes, language, sex, nudity | 25.Oct.04 |