R E V I E W B Y R I C H C L I N E

Gifted Scottish director Ramsay (Ratcatcher) is unapologetic about the bleak nihilism in this drama about a young woman's dubious attempts to make her life better. When Morvern Callar (Morton) discovers her boyfriend dead on the floor, by suicide, it takes her a long time to get over the shock. But then pragmatism kicks in. He has left her his unpublished novel as a legacy, so after casually getting rid of the body she sends the manuscript to a publisher under her name. Then she takes the cash from his bank account to go on vacation in Spain with her best friend Lanna (McDermott), who knows nothing about all this and can't understand why her friend is behaving so strangely. Lanna is settled in her rural life; Morvern wants out.

Ramsay's filmmaking skills are astonishing, bringing to mind Jane Campion's ability to get under the skin of a difficult character while creating a work of art that is provocative and often shockingly heartless. The gentle flow of the narrative, the carefully saturated colours, the poetic beauty of the images, the intricate use of music--this is expert moviemaking, sometimes so stylish that it starts to lose coherence. But the drive of the piece is in the themes, not the plot, which shifts gears from a dark and creepy thriller to a sexy sun-drenched holiday comedy to a grainy 1970s style road movie. The cast is excellent, in an off-handed and very natural way. Morton makes Morvern an intriguing yet frightening young woman who we never remotely engage with (this is the point!). We just can't get to the bottom of her motives, yet we clearly understand the deep drive to try to improve life in any way possible, especially when the restraints are removed. And as a result, the film does ultimately jar our emotions in a powerful way.
| | | |
| --- | --- | --- |
| | adult themes and situations, language, violence, nudity | 3.Sep.02 |
dir Lynne Ramsay
scr Lynne Ramsay, Liana Dognini
with Samantha Morton, Kathleen McDermott, Jim Wilson, Dolly Wells, Des Hamilton, Danny Schofield, Dan Cadan, Andrew Townley, Duncan McHardy, Ruby Milton, Carolyn Calder, Mette Karlsvik
release UK 1.Nov.02; US 13.Dec.02
Company
02/UK 1h37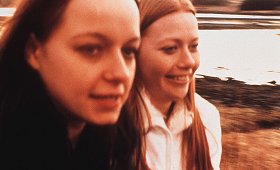 Highland life. Best pals Morvern and Lanna (Morton and McDermott) have very different expectations about their future...



Sevarian, Michigan:

"Strikingly original film with fine photography and excellent performances. Ramsey scores again after Ratcatcher. The suicide note says, 'Don't try to understand--it just seemed the right thing to do,' and that directive governs all of Morvern's subsequent actions. She doesn't really understand what's happening or how to deal with it, she just does what seems right to her at the moment and goes with the flow. But where ever she goes, she remains alone." (10.Jan.04)