R E V I E W B Y R I C H C L I N E

Brazilian director Meirelles takes us straight into the favelas of Rio in this urgent and compelling film based on a true story that spans just over a decade. In the late-60s a group of poor children are just discovering the violent community they live in--the crimes their big brothers are involved in, the corrupt cops, the difficulties of getting out of the cycle of violence. At the centre are Rocket (Rodrigues) and Li'l Dice, later known as Li'l Ze (da Hora), two boys who take vastly diverging paths. Rocket tries to shun violence (except for one rather comical attempt), but instead gets on with his life and his artistic goals to become a photographer. Meanwhile, Li'l Ze embraces the power and cruelty of murder, rape and drug dealing. We know from the opening scene that the two are heading for a showdown, but the path they take to get there is complicated ... and full of colourful characters.

Bristling with style and confidence, this film draws us in both through cinematic artistry and raw storytelling. This isn't merely a grimy slog through a poverty-stricken ghetto; it's also an energetic and lively coming-of-age film. As played astutely by a cast of mostly non-actors, the characters spring to life, finding joy and humour even in the most appalling situations and in the face of unspeakable violence. And Meirelles captures it with both raw earthiness and plenty of heart and soul, veering suddenly yet smoothly from comedy to emotion to romance to terror. And at the same time, he brilliantly outlines the progression of Cidade de Deus from a poor suburb to a crime-ridden war zone, while its children slowly evolve from rambunctious youth to ruthless drug lords. Ingenious cinematography and editing, witty subheadings, and Rocket's narration help clarify events and keep the people and interrelationships straight. Yes, it's harsh and extremely shocking. And it's also one of the most moving and forceful films of the year.
| | | |
| --- | --- | --- |
| | strong themes, violence, nudity, drugs, language | 7.Nov.02 lff |
dir Fernando Meirelles
scr Braulio Mantovani
with Alexandre Rodrigues, Leandro Firmino da Hora, Seu Jorge, Phelipe Haagensen, Matheus Nachtergaele, Renato de Souza, Douglas Silva, Cero Camilo, Graziela Moretto, Roberta Rodriguez
release UK 3.Jan.03; US 17.Jan.03
Miramax
02/Brazil 2h10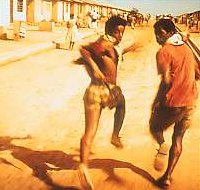 Run! The boys try to escape the cops yet again...

22nd SHADOWS AWARDS

BEST FILM OF 2002
LONDON FILM FESTIVAL


"The best movie of the year and the most important portrait of violence and drugs problems in Brasil. I hope that this movie calls the attention of the world to that tragedy and gets all the Oscars it deserves." --Welington Liberato, Sao Paulo 26.Nov.02

"What can I say: amazing! There aren't superlatives to describe this film. It grips you from start to finish. If this does not bring help to these people we are not worth the life we have richly been given. The cast, the story, the direction, the cinematography - all perfect. Tell me the charity for these people and I will sign up today." --Brian Greaves, Newcastle UK 20.Jul.03