R E V I E W B Y R I C H C L I N E

Like the last Jonze-Kaufman collaboration, this film is a mind-spinning and often hilarious examination of identity and connection, playing with the whole idea of cinema in such a way that it keeps us delightfully off balance. Filming is underway on Being John Malkovich, the first screenplay by Charlie Kaufman (Cage). He's still an insecure writer, so when a film exec (Swinton) asks him to adapt the bestselling book The Orchid Thief by New Yorker writer Susan Orlean (Streep), he feels deeply inadequate. And he's even more irritated by his identical twin brother Donald's cliche-ridden attempts to write his own screenplay. As Charlie gets deeper into the project, he feels less and less able to capture the book's subtle nuances, wondering what really went on between Orlean and her subject, the orchid poacher Laroche (Cooper).

This makes it sound like such a simple film, but it's anything but. This is a film within a novel within a film within another film, and yet as it bounces back and forth between different layers of fact and fiction, it touches on some amazingly thoughtful themes about love and self-respect. And it's absolutely hilarious as well--especially for film lovers who will spot all kinds of brilliant jabs and wry references that make the whole thing spring marvelously to life. Jonze's direction is sharp and wickedly funny, expertly edited to carry us through the multi-layered story and all the various asides.

The cast is nearly perfect. Streep nails her character so perfectly that she seems to not be acting at all; the Orlean character here is a real dark horse, with all kinds of unexpected elements to her just waiting to come out. Meanwhile, Cage gives one of his rare raw, selfless performances (two of them, actually)--pudgy, frumpy and frazzled, yet knowingly comic and surprisingly sympathetic. By putting himself in the story (and creating a fictional twin), Kaufman makes this into a sequel of sorts for Being John Malkovich, picking up on the same themes and running even further with them. On the surface it's about the nature of writing and creativity, the constraints of the business, and how commercial concerns seductively invade art. But it's also a film about pure passion on several levels, and how love of others and ourselves helps us adapt to our surroundings.
| | | |
| --- | --- | --- |
| | adult themes and situations, language, violence | 3.Dec.02 |
dir Spike Jonze
scr Charlie Kaufman, Donald Kaufman
with Nicolas Cage, Meryl Streep, Chris Cooper, Tilda Swinton, Cara Seymour, Maggie Gyllenhaal, Curtis Hanson, Judy Greer, Brian Cox, Catherine Keener, John Malkovich, John Cusack
release US 6.Dec.02; UK 28.Feb.03
Columbia
02/US 1h57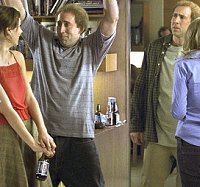 Party boys. Charlie (Cage, right) is embarrassed of his more commercial, crowd-pleasing brother Donald (Cage, left)...




22nd SHADOWS AWARDS

TOP 10 FILM


BEST WRITER


READER CHOICE: WRITER


READER CHOICE: SUPPORTING ACTRESS Streep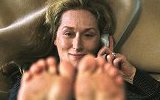 "I loved it; that's the only thing I can say about it. And Meryl was lovely again, as she always will be." --Brooke Reynolds, Netherlands 10.Mar.03

"**** A must-see for filmmakers and especially scriptwriters! Cage plays a scriptwriter and his alter ego who struggle to adapt a book into a script. Deals with numerous writing issues and amusingly has a piss-take (homage?) to Robert McKee which will have any of his three-day course 'graduates' in stitches. Unfortunately it eventually becomes a little silly as fiction mixes with odd reality. I highly recommend this." --Gawain McLachlan, Filmnet, Melbourne 14.Mar.03