R E V I E W B Y R I C H C L I N E
dir David Fincher
scr James Vanderbilt
with Jake Gyllenhaal, Mark Ruffalo, Robert Downey Jr, Anthony Edwards, ChloŽ Sevigny, Brian Cox, Donal Logue, Elias Koteas, Dermot Mulroney, Philip Baker Hall, Adam Goldberg, Clea DuVall, John Carroll Lynch, James LeGros, Charles Fleischer, Zach Grenier
release US 2.Mar.07, UK 18.May.07
07/US Warner-Paramount 2h38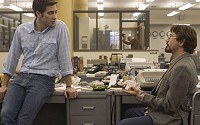 At the Chronicle: Gyllenhaal and Downey




Leave it to Fincher to reinvent the serial killer thriller. This involving, gripping investigative epic is impeccably produced and boasts superior performances from a fine cast.

Even now, no one's sure how many people the self-proclaimed Zodiac killed. But he held San Francisco in a grip of fear in the late-60s and early 70s with random murders and public threats--a 20th century American Jack the Ripper. The film centres on two men whose lives are consumed by the case: Detective Dave Toschi (Ruffalo) works with his partner (Edwards) until the trail goes cold, then the unlikely but persistent newspaper cartoonist Robert Graysmith (Gyllenhaal) carries on after his colleague, crime writer Paul Avery (Downey), burns out.

Using meticulous research, the filmmakers recreate the murders as realistic versions of slasher movie scenes, then shift into a procedural thriller as cops and hacks try to stop a killer who seems to delight in tormenting them. Years later, the case is reopened--and the film reawakened--by the curious cartoonist. What follows is a ripping investigation, complete with creepy suspense and lots of red herrings as Graysmith tries to convince Toschi and several local cops (including Logue and Koteas) to keep working.

Gyllenhaal is perfect casting, with his puppy-dog tenacity and unstoppable curiosity. We are right with him at every step, so it's rather annoying when the film skips over the key cryptogram he solves. Meanwhile, Ruffalo gives another strikingly well-formed turn as the frazzled, tough-guy cop who inspired both Bullitt and Dirty Harry. And Downey uses his personal experiences to vividly portray a man who freefalls from arrogant ponce to sardonic addict.

And the starry supporting roles add layers of interest and intensity. Although poor Sevigny, as Graysmith's wife, must cram her character's huge journey into about four scenes. As a director, Fincher invests the film with a striking slickness--a 1970s sheen that begins with vintage studio logos and continues with cool period details. Although there are only a couple of his trademark vertiginous shots, he packs the movie with character-based details that are funny, grisly and intriguing, all of which enrich a great story that spans more than 20 years.
| | | |
| --- | --- | --- |
| | themes, language, violence | 3.Apr.07 |