R E V I E W B Y R I C H C L I N E
dir Richard Eyre
with Patrick Marber
with Judi Dench, Cate Blanchett, Bill Nighy, Andrew Simpson, Joanna Scanlan, Juno Temple, Max Lewis, Emma Kennedy, Tameka Empson, Alice Bird, Philip Scott, Anne-Marie Duff
release US 27.Dec.06, UK 2.Feb.07
06/UK Fox 1h32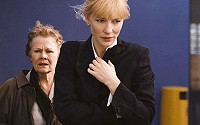 I've got my eye on you: Dench and Blanchett



---
See also: INTERVIEW WITH
CATE BLANCHETT, PATRICK MARBER & RICHARD EYRE
---

Based on the Zoe Heller novel, this internalised dramatic thriller makes the most of subtly perceptive writing, directing and acting. As a result, the tale of obsession becomes chilling and utterly gripping.

Barbara (Dench) is a veteran teacher at a North London school where everyone regards her with wariness. And we begin to understand why as we hear her journal entries observing the minutiae of everyone's life. Soon she locks her attentions on new teacher Sheba (Blanchett), worming into her confidence, meeting her husband (Nighy) and children (Temple and Lewis), and discovering a useful secret liaison with her 15-year-old student (Simpson). Soon Barbara is sure they'll be lifelong companions. And Sheba has no idea what the consequences will be if she crosses her.

Very few A-list actresses are willing to play a character as deeply unsympathetic as Barbara. The script never pities her for a moment, so Dench must bring her to life with tiny details--nearly invisible twitches and glances, brief hesitations and vocal quavers. It's a spectacular performance simply because it's so small and real. Opposite her, Blanchett has a much more openly emotional role ("Why shouldn't I transgress?"), and she's excellent as well. As is Nighy as a long-overdue proper character who doesn't require Nighy's trademark quirkiness. While Simpson registers strongly as a "little tower of testosterone".

Meanwhile, Marber's script is a wonderfully restrained concoction that doesn't waste a minute of screen time. The Ripley-esque story is cleverly structured not to outstay its welcome--get in there, unsettle us completely and then get out. There aren't any big twists or draggy codas. It unspools its surprises and plot turns organically, while Eyre and expert cinematographer Chris Menges catch every nuance perfectly, accompanied by Philip Glass' driving score.

It's such a sharp, contained movie that it feels a somewhat superficial, like a freak-out just for the sake of it. But there are strong themes in here about ambition, obsession and especially about loneliness and attraction in the dual "romantic" plotlines. And through its setting in a state school, the film also makes some understated but pointed comments on the limits of our education system.
| | | |
| --- | --- | --- |
| | themes, language, sexuality, some violence | 22.Nov.06 |