R E V I E W B Y R I C H C L I N E
dir-scr Mike Leigh
with Imelda Staunton, Phil Davis, Daniel Mays, Alex Kelly, Eddie Marsan, Adrian Scarborough, Heather Craney, Ruth Sheen, Sally Hawkins, Peter Wight, Fenella Woolgar, Jim Broadbent
release US 22.Oct.04; UK 7.Jan.05
04/UK 2h05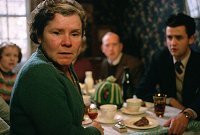 Not now, please: Staunton with Kelly, Scarborough and Mays




• TOP 10 FILM
• BEST ACTRESS:
IMELDA STAUNTON


Even after three decades of work, Mike Leigh is still making films that bristle with honesty and life, fearlessly tackling issues that other filmmakers won't touch, and maintaining a level of integrity we rarely see on screen. This might be his best film yet.

Vera (Staunton) is a middle-aged wife and mother in 1950 London. She cleans houses for her rich neighbours, but her sense of charity is so strong that she dedicates her spare time to meeting people's needs--tending to sickly shut-ins and her lonely mother, caring for her husband (Davis) and adult children (Kelly and Mays), and "helping young girls out" when they find themselves pregnant. No one knows about this last thing except her childhood friend Lily (Sheen), and when one abortion goes wrong Vera has to face the raw truth of her entire life.

This is an extraordinarily strong story, and Leigh tells it with skill and beauty. This is a topic no one in Post-War Britain would ever talk about, so the repercussions here are both mind-spinning and profoundly moving. In telling the story, Leigh cuts straight to the heart of the matter, and as a result connects with us emotionally very early on, never letting up for a second ... and also never taking advantage of us either (there's not a single cheap cinematic moment)!

It also helps that Staunton is such a transcendent actress--from Vera's cheerful obsession with nice cups of tea to the sudden dawning of what's at stake here. This is one of the year's most remarkable performances, and yet it never grandstands for a second. From her face alone we fully understand that her life is shattered not because she's been caught, but because she almost hurt someone. And the cast around her is note-perfect as well, brilliantly balancing the humour, class issues, confusion and inner turmoil.

The film is also blessed with warmth and charm drawn out in the striking production design, lush-but-dark cinematography and minimalist score. Leigh's writing and direction are astute and insightful, lacing the film with moments of joy, irony and pain. This is masterful, earth-shaking filmmaking--complex, entertaining and so profoundly stirring that it's impossible to get it out of your mind.
| | | |
| --- | --- | --- |
| | adult themes and situations | 22.Sep.04 |


Matt Dowson, Bradford: "Outstanding work. I don't think any hollywood star would ever let herself play Vera the way Staunton did, they would have to make her more attractive. OK, it doesn't take the story far enough perhaps, but Leigh set himself a very clear focus - the effect on the family and the why? Up to us to debate it. Best two hours I've spent in a longtime." (30.Jan.05)