R E V I E W B Y R I C H C L I N E
dir Edgar Wright
scr Simon Pegg, Edgar Wright
with Simon Pegg, Nick Frost, Kate Ashfield, Lucy Davis, Dylan Moran, Penelope Wilton, Bill Nighy, Peter Serafinowicz, Rafe Spall, Jessica Stevenson, Martin Freeman, Mark Donovan
release UK 9.Apr.04, US 24.Sep.04
Universal
04/UK 1h40


Attack of the zombies: Pegg and Frost strategise (above); Davis, Ashfield, Moran, Pegg, Wilton and Frost try to blend in (below).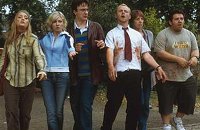 Now here's an ingenious concept, very nicely executed, as it were, by the team behind the British comedy series Spaced. Actor-cowriter Pegg calls this Rosencrantz & Guildenstern Are Undead, referring to Tom Stoppard's brilliant comedy set around the edges of Hamlet. Well, now he and Wright have done the same thing with the zombie genre! And the result is horrifically good fun!

Shaun (Pegg) is happy with his life, but he's about to discover its complete and utter pointlessness. His job in an electronics shop is going nowhere, his girlfriend Liz (Ashfield) is about to break up with him, and his best friend/flatmate Ed (Frost) is a first-class loser. In his newfound misery, it takes him a while to notice that people around him are turning into flesh-eating zombies. Eventually he and Ed devise a plan to rescue Liz, along with Liz's flatmate and her annoying boyfriend (Davis and Moran), as well as Shaun's mother and stepdad (Wilton and Nighy), and hole up in the local pub. But it doesn't go very smoothly.

It's in the set-up that this film wins us over. Pegg and Wright brilliantly send up both the zombie genre and British society by showing how mindless everyday life is--there are zombies all around us! Then as the undead start appearing around the edge of the film, it takes on a goofiness that's absolutely sublime. The film is full of inventive touches, from witty red herrings to the lethal use of household objects. The filmmakers even avoid the obvious pitfalls, keeping the script smart and playing on the stereotypes like the lovable lout, obnoxious nerd, airhead mum and reluctant hero. All are better written and played than we expect;there are even moments of honest drama that catch us off guard.

The film is also very cleverly shot and edited, with snappy musical choices that build to an hysterical zombie attack accidentally choreographed to a blaring jukebox. This is one of those memorable films that generates hours of post-viewing arguments about which bit was the funniest. So it's a slight pity that the final act becomes a by-the-books horror movie. But with the razor-sharp attitude that went before, we can forgive the filmmakers for losing their bite.
| | | |
| --- | --- | --- |
| | themes, language, gore | 1.Mar.04 |

Coops, Hull:

"Oh god, he's got an arm off! Pure class. The film is brilliant from start to finish. A must see." (10.Apr.04)

Rachel, England:

"This film contains some very, very funny moments - as in whole-cinema-laughing-out-loud moments - which is a rare thing indeed. Much like Spaced the humour is original, witty, clever, very English and just pure class. But at the same time incredibly dark - many of the laughs come from the horrific and really gruesome disposition of the zombies by Shaun and his friends in endlessly inventive ways. So if you're a fan of Spaced, or English humour (or gore) then you'll almost certainly appreciate this film." (10.Apr.04)
Nick B, Cornwall:

"A great British comedy!" (10.Apr.04)

Steev Bishop, Southampton:

"This has become one of my all-time top five movies. It has a funny, biting and sharp script, which isn't afraid of drama and tension between characters; awesome performances all round, especially Simon Pegg who really pulls some range out of the bag that TV hasn't demanded of him; great direction, editing and sound; and some very visceral moments of pure horror-style gore. Shaun of the Dead had a mission to achieve, and does so very successfully. It's a movie that wants to be a comedy with a romantic twist rooted in a horror background. It does that with such style that I couldn't help but feel in awe as I watched the movie. As you can see by my gushing, I really do rate the movie! Hopefully, it does more than a great first weekend, and it could easily become the sleeper hit of the year in the States. You owe it to yourself to watch the movie but, along with your comic-reading, cult-loving buddies, take your mum, your chav-loving sister and your elderly neighbour. Just know where the exits are." (10.Apr.04)

Alan, Melbourne:

"Caught it in Ireland and was thoroughly entertained by this comedy which I'd describe as 'Coronation Street Meets the Zombies'. A good script, made better with strong characterisations by a troop of very talented actors. It makes a strong point when it parallels much common behaviour by present day UK inhabitants with a zombie-like existence. Some of the cameo appearances (Trisha for example) would be lost on audiences outside the UK and Ireland as they are TV presenters not known on the world's small screens - perhaps distributors will need to edit in shots of Oprah and Bryant Gumble to have a chance in the US! Many funny lines producing a lot of spontaneous audience laughter ... and a great way to spend a very wet afternoon in Cork." (21.Apr.04)
Matt Nation, Bath UK:

"Excellent. A well written, excellently paced comedy horror, that has a gentle and tender side to it at the same time - the writers' own description of it as a 'rom-zom-com' is pretty accurate. The comparison with modern life creating its own zombies with their playstations and personal stereos and the real zombies is very amusing." (22.Apr.04)
N.V., The Netherlands:

"Best Horror/Comedy movie I've ever seen! 'You've got red on you!' Very good." (9.Jan.05)