R E V I E W B Y R I C H C L I N E
dir Martin Scorsese
scr John Logan
with Leonardo DiCaprio, Cate Blanchett, John C Reilly, Matt Ross, Kate Beckinsale, Danny Huston, Alec Baldwin, Alan Alda, Adam Scott, Ian Holm, Jude Law, Kelli Garner, Willem Dafoe, Frances Conroy, Brent Spiner, Gwen Stefani
release US 17.Dec.04,
UK 26.Dec.04
Miramax
04/US 2h55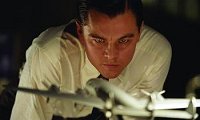 The young genius: Dicaprio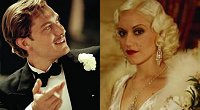 • TOP 10 FILM
• BEST SUPPORTING ACTRESS:
CATE BLANCHETT
• READER CHOICE: DIRECTOR


Scorsese on peak form is something to behold, and this hugely entertaining film is perhaps his biggest crowd-pleaser to date, an expertly assembled portrait of one of the 20th century's most important and intriguing figures.

Howard Hughes (DiCaprio) was only 21 when he arrived in 1920s Hollywood with a desire to make it big in both aviation and moviemaking. His natural, innovative genius gave him the confidence to spend his personal fortune achieving success in both fields. But slowly crumbling mental state made his personal life much rockier--from working relationships with his closest employees (Reilly and Ross) to romances with glamorous stars (Blanchett's Katharine Hepburn and Beckinsale's Ava Gardner). While run-ins with ruthless competitors (Baldwin) and vindictive government officials (Alda) brought out his best ... and worst.

Even at three hours, this film races along effortlessly. Scorsese uses camera angles, editing choices, playful colours, visual effects and his remarkable cast to maximum effect, all while telling a gripping story about a fascinating man. DiCaprio delivers a powerful performance, overcoming his boyishness through sheer movie star presence. He's not a character actor, but he's able to reach deep inside to show Hughes' inner demons in a subtle and extremely unnerving way. Blanchett is the other standout, with a sparkling and engaging turn as the feisty Hepburn.

This period of Hughes' life included astonishing highs and lows. And none of this is simplified on screen--it's complex and utterly riveting, from tinseltown glamour to the brutality of business and politics, from thrilling aerial soaring to one of the most astonishing plane crashes ever recreated on film. Scorsese uses all of his tools for maximum impact--light and colour, faces and costumes, sets and landscapes.

And the narrative is extremely well-structured, even though Logan never gets beneath the skin. His script wonderfully captures the emotions, but never remotely helps us understand what makes Hughes tick (besides a few simplistic references to a creepy bathing session as a boy). And the film's complete avoidance of Hughes' sex life is extremely bizarre. But anyway. This still is a fabulously beautiful movie with a strong story to tell. Essential.
| | | |
| --- | --- | --- |
| | adult themes, language, violence | 29.Nov.04 |


Donna Carter, Wisconsin: "I almost didn't go see it because a review said it wasn't insightful enough into his character and how he became who he became. Excuse me?? I thought it was pretty evident from the very beginning of the movie. It took a while to take off (pardon the pun) but I appreciated watching the intricacies of Howard Hughes' life - the choices made, the reasons behind them, the affect his upbringing had on him, the ways that those who loved him cared for him, how he pulled himself together when he needed to, and how others covered for him when he fell apart. Leonardo DiCaprio was seriously awesome in this movie. He did a superb job. I had a hard time visually putting Cate Blanchett and Katharine Hepburn together without having to mentally make the effort, although Cate had Kate's speech mannerisms down well! It's a long movie, but it's a good one. It makes one more curious about planes and the history of the airline industry in general, and it causes one to consider the human psyche and what makes us tick. I liked it." (27.Dec.04)