R E V I E W B Y R I C H C L I N E

Two years ago The Fast and the Furious caught us off guard with its gleeful B-movie attitude--the filmmakers just wanted us to have mindless fun with fast cars, corny characters and big action set pieces. And we did! Well, this follow-up is more of the same ... and a much better made film.

Disgraced ex-cop Brian O'Connor (Walker) has fled from L.A. to Miami to hide out among the local street racers, but he's soon caught by a hotheaded, moronic customs agent (Remar) and blackmailed into service to nab a notorious smuggler (Hauser) with the help of a beautiful undercover agent (Mendes). Brian's one condition is that he gets to work with his childhood friend Roman (Tyrese), an ex-con under house arrest in the California desert. So Brian and Roman must overcome the bad blood between them to catch the bad guy, clear their records ... and stay alive.

Actually, the plot is more involving than it has any right to be, continually putting the characters into no-win situations that require outrageous levels of inventiveness. And while none of the cast will win acting awards, at least Tyrese has a gripping screen presence, while Hauser has a great time with the handsome-brutal baddie role. The real trump card here is director Singleton, who gives the film a raw energy that really gets the adrenaline going.

The film is infused with a groovy 1970s vibe--a terrific ethnic jumble, big hair, bikini-clad babes, super-flash cars. And he also adds a hilarious streak of comedy and subtext, which the first film lacked. The Miami Vice redux storyline is virtually a tender love story between Brian and Roman, with lots of muscly macho strutting around the edges. But it's the action scenes we're here for, and Singleton delvers them with gob-smacking camera work and clever effects that get us shaking our heads with amazement. By the time we get to the almost criminally enjoyable climactic chase, we're completely and utterly hooked. More! More!
| | | |
| --- | --- | --- |
| | themes, language, violence | 2.Jun.03 |
dir John Singleton
scr Michael Brandt, Derek Haas
with Paul Walker, Tyrese, Eva Mendes, Cole Hauser, James Remar, Thom Barry, Chris 'Ludacris' Bridges, Jin, Devon Aoki, Amaury Nolasco, Michael Ealy, Mark Boone Junior
release US 6.Jun.03; UK 20.Jun.03
Universal
03/US 1h47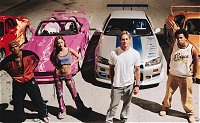 Vroom vroom. Ladies and gentlemen, start your engines! (Tyrese and Walker, below)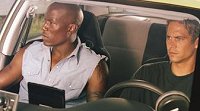 See also:





"Okay, the ending sets it up for a sequel, as the first did. I am not sure why Vin Deisel was not in this sequel, because it would have fit to have him in - but it also 'fit' the way it was written. This is a movie about fast cars and people who really like fast cars, and who put a whole lot of money and time into their cars. Not being a car buff, I still say I enjoyed it. There were a few twists - you were not quite sure what would happen, it was more wondering 'now how are they gonna get out of that?' - but we liked it. It maybe is not as good as the first, but if you liked the first, I would definitely recommend you see this. On the big screen, the race scenes are more dramatic, so if you like fast cars and you enjoyed the first movie, you will like this one." --Laurie T, Minneapolis 13.Jun.03