R E V I E W B Y R I C H C L I N E

Based on the kind of goofy premise Adam Sandler might have gone for, this film doesn't deserve to be half as funny and engaging as it actually is!

Buddy (Ferrell) is a man who was raised at the North Pole by Santa's elves. He doesn't realise he's human; he just thinks he's a bit tall, and rather slow at making toys. But Santa (Asner) and his adoptive Papa (Newhart) finally break the truth to him and encourage him to find his biological father (Caan) in New York. Of course, the big bad city is alien to this Christmas-loving elf-man, but as he bumbles along he manages to get under the skin of his Scrooge-like dad, sweet stepmum (Steenburgen), little brother (Tay) and a cute girl (Deschanel) who works as an elf in Gimbel's Christmas department. But Santa is having trouble with his sleigh, and Buddy may be the only guy who can save Christmas!

Yes, the story is truly silly, but it maintains a timeless quality that lets us suspend our cynical disbelief. This is helped hugely by the fact that the script is loaded with warped, deranged bits of humour that keep grown-ups laughing all the way from a vicious Keebler joke at the beginning, through a series of groaner running gags, to the Ringwraith-like Central Park Rangers at the end.

Ferrell is hopelessly miscast, but that's part of the film's charm. He's too old and stiff and yet makes Buddy loveable anyway. Casting pros like Asner and Newhart in key roles is a stroke of genius, as is the hilarious cameo from Dinklage. Favreau directs the film like a holiday classic -- bright and wacky, with witty touches and references that will make the film enjoyable over multiple viewings. He mishandles the climactic action scene though, only just barely capturing the script's witty blend of humour, sentiment and excitement. But this doesn't dampen the film's Christmas spirit at all; I promise you'll leave the cinema with a silly grin on your face.
| | | |
| --- | --- | --- |
| | themes, language | 12.Oct.03 |
dir Jon Favreau
scr David Berenbaum
with Will Ferrell, James Caan, Zooey Deschanel, Edward Asner, Bob Newhart, Mary Steenburgen, Daniel Tay, Michael Lerner, Peter Dinklage, Jon Favreau, Faizon Love, Richard Side
release US 7.Nov.03; UK 14.Nov.03 New Line
03/US 1h36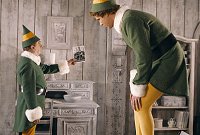 Are you my daddy? Newhart and Ferrell





Laurie T, Minneapolis: "Inwardly I was groaning, cuz it looked so dumb - and how could this dumb movie be any good? That being said, I have to say I really enjoyed the movie - for all kinds of reasons. This movie is surprisingly entertaining, made me laugh a lot, and I think it will be a good movie to renew our Christmas spirit! Really, go see this movie, take the kids - learn about how to renew your Christmas spirit!" (9.Nov.03)