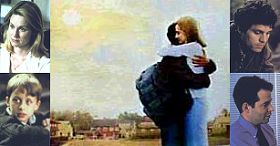 He ain't heavy. Sammy struggles to cope with her brother, son and new boss (clockwise from top left: Linney, Ruffalo, Broderick, Culkin).
You Can Count on Me
SHADOWS AWARD: BEST WRITER
SHADOWS

MUST-SEE
dir-scr Kenneth Lonergan
with Laura Linney, Mark Ruffalo, Matthew Broderick, Rory Culkin, Jon Tenney, Gaby Hoffman, Kenneth Lonergan, J Smith-Cameron, Josh Lucas, Kin Parker, Adam LeFevre, Nina Gabiras
release US 17.Nov.00; UK 23.Mar.01
awards Grand Jury Prize (Sundance 00); Best Actress Linney (Oscar nomination, Golden Globe nomination, SAG nomination, National Critics, NY Critics, Toronto 00); Best Actor Ruffalo (Montreal 00); Best Original Screenplay (Oscar nomination, Golden Globe nomination, WGA nomination, NY Critics, Sundance 00, Toronto 00); Sutherland Trophy (London 00)
00/US 1h41

REVIEW BY RICH CLINE

The guy who wrote Analyze This and, er, The Adventures of Rocky & Bullwinkle surprises just about everyone with this terrific little drama about family relationships. Written and directed with grace, clarity and real insight, the film also contains a handful of unforgettable performances. Sammy (Linney) is a single mother with an 8-year-old son (Culkin), a nice-guy boyfriend (Tenney) and a very orderly life. Then two arrivals upset her careful balance: a pedantic new manager (Broderick) at work and her wastrel, wandering brother Terry (Ruffalo). Sammy and Terry are the only family either has, and while they love each other deeply, they have little in common, approach the world in very different ways and rub each other the wrong way. All the time.

Yes, this is a character-driven story, but there's also a lot going on here--layers of interrelationships, old baggage and, most notably, a film full of authentic characters who are all both likeable and deeply flawed. In the central role, Linney reveals Sammy's strengths and weaknesses in perfect balance--it's a terrifically nuanced, astute performance that's worth all the accolades heaped upon it. Ruffalo brings a rough charm to Terry that takes us aback; we can see his kindness and concern, and the truth that perhaps he's more mature than Sammy. Broderick gives yet another hilarious turn as the pernickety boss who's actually dealing with some serious issues. And Culkin (Macauley's little brother) is terrific in a rare kids role that's both thoughtful and intelligent. But it's Lonergan who deserves the highest praise. This film is so perfectly formed and beautifully told that it nearly takes your breath away ... especially if you have a brother or sister! Don't miss it.
| | | |
| --- | --- | --- |
| adult themes and situations, language | | 19.Feb.01 |