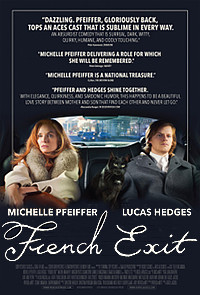 dir Azazel Jacobs
scr Patrick DeWitt
prd Christine Haebler, Christina Piovesan, Noah Segal, Trish Dolman, Katie Holly, Olivier Glaas
with Michelle Pfeiffer, Lucas Hedges, Valerie Mahaffey, Imogen Poots, Susan Coyne, Danielle Macdonald, Isaach De Bankole, Daniel di Tomasso, Tracy Letts, Eddie Holland, Larry Day, Younes Bouab
release US 12.Feb.21,
UK 26.Feb.21
20/Canada Sony 1h53



---
Is it streaming?

---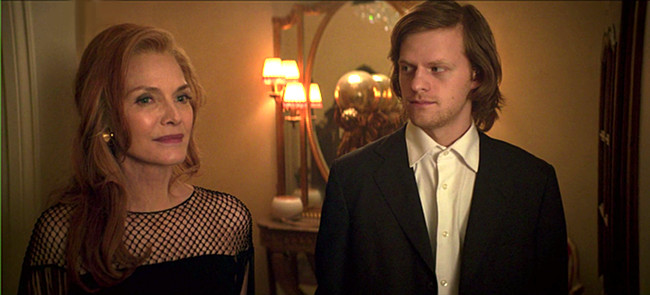 With a title that refers to an unannounced departure, like sneaking out of a party, this wry comedy prowls around situations, remaining witty and engaging without generating a laugh-out-loud joke. It's a warm portrait of a mother and son who are clueless about the world, directed at an unhurried pace by Azazel Jacobs from a script by author Patrick DeWitt. And it inches its way into a charmingly gloomy farce.
---
Free-spirited but fading Manhattan socialite Frances (Pfeiffer) has run out of money, and is thrown out of her lavish home along with her son Malcolm (Hedges). A friend (Coyne) offers a Paris apartment, suggesting that Frances quietly leave the city. So Malcolm goes too, leaving behind his secret fiancee Susan (Poots). After a trans-Atlantic cruise, Frances and Malcolm arrive in Paris and breeze through their limited funds, distracted while looking for their runaway cat. A new friend (Mahaffey) helps, as does a private eye (de Bankole) and a medium (Macdonald) Malcolm met on the ship.
---
Frances is an eccentric who stands in darkened kitchens sharpening knives because she likes the sound. She calmly smuggles her cat onto the cruise, then into France. And her relationship with Malcolm is conspiratorial and endearing, especially with its snarky undercurrents. But while the film is packed with wacky touches, including a tensely absurd seance, it plays out with a dry sense of honesty that expresses things that are going on under the surface.

While the quirky characters feel detached from everyday reality, the performances are intriguingly understated. Pfeiffer makes Frances confident but desperate, relying on things that are no longer there: namely her youth and income. She's hilariously disconnected from those around her, but snaps into attention now and then, usually when her son reminds her that she's being rude. Hedges has a terrific clumsiness as Malcolm, giving the film its heart. And Mahaffey is hilarious as a needy widow.

There's a strong thematic layer quietly suggesting that Frances has never grieved the loss of her husband, and that this has fed into the seriously offbeat way she has brought up her son. In addition, a darker plot element slowly emerges, adding texture to the film's already morose comedic tone. Thankfully, there are also small explosions of joy that give scenes a spark of life. But the story runs out of steam with about a half hour to go, which leaves the final act feeling oddly mopey and aimless.
| | | |
| --- | --- | --- |
| | themes, language | 27.Dec.20 |
R E A D E R R E V I E W S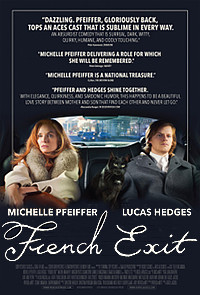 Still waiting for your comments ... don't be shy.